Crisscrossed Shorts Camelia - Cocoa brown
Crisscrossed Shorts Camelia Oksa Wear is a stylish and sophisticated model that will look great on you.
Perfectly combined with Bralette top Camelia - Cocoa brown
Composition: 73% polyester, 27% spandex.
Pole dance, fitness classes, active movements and dances.
The back is elegantly gather for a perfect fit.
Your life is your choice.
Composition: 73% polyester, 27% spandex.
Hand wash cold with mild soap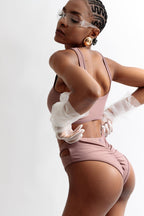 Crisscrossed Shorts Camelia - Cocoa brown