Garter Shorts Victory - Marsala
Victory garter shorts with mesh from Oksa Wear for pole dance, fitness classes, active movements and dances.
Victory shorts in Marsala from the "Egypt" collection, which embodies the transition of man to a new era of knowledge and creativity. Models are created in a balance between the fantasy of secret knowledge and the desire for a modern ideal.
Composition: 73% polyester, 27% spandex.
Shorts for dancing and active classes have elastic mesh inserts.
The back is elegantly gather for a perfect fit.
Djustable garters that can be easily unfastened and fastened when needed
Create your future with the functional Victory Shorts paired with the Marsala Victory Top.
Composition: 73% polyester, 27% spandex.
Hand wash cold with mild soap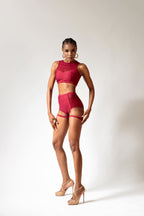 Garter Shorts Victory - Marsala