High waisted cut-out Shorts Almanara - Black
Cutouts on the sides in high waisted shorts Almanara allow you to touch your beautiful waist with your eyes, these shorts combine sexuality and elegance.
Shorts Almanara from the "Egypt" collection Oksa Wear, which embodies the transition of man to a new era of knowledge and creativity. Models are created in a balance between the fantasy of secret knowledge and the desire for a modern ideal.
Composition: 73% polyester, 27% spandex.
The back is elegantly gather for a perfect fit.
Fantasize and dance with the shorts Almanara , Styled with the Criss-cross strappy top Almanara - Black
Composition: 73% polyester, 27% spandex.
Hand wash cold with mild soap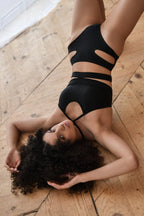 High waisted cut-out Shorts Almanara - Black