Sticky leggings Carbon - Black
Styled with the oksa classic sport top - Black
Struggling for leg grip? Sticky leggings Oksa are here for you.
Scared of trying that new trick? Want to hit something really challenging? We have what you need.

Composition: 73% polyester, 27% spandex.
Sizing Tip: Fit True to size. These are designed to fit like a second skin so should feel right when worn.
Care Instructions: Hand wash cold with mild soap Back gather for a perfect fit. Foot stirrups for a supportive second-skin feel.
Composition: 73% polyester, 27% spandex.
Hand wash cold with mild soap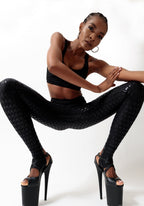 Sticky leggings Carbon - Black